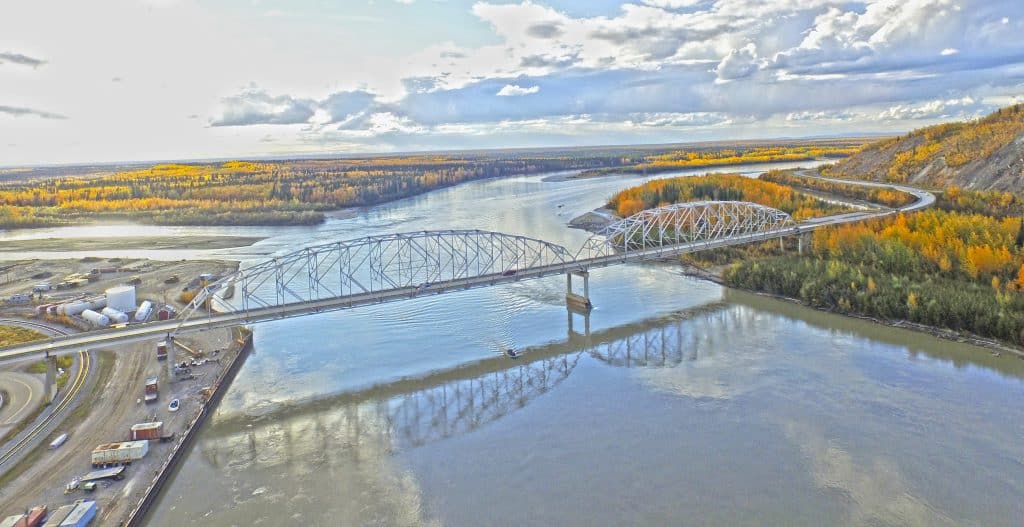 Statewide Bridge and Ferry Terminal Inspections
Alaska
Since 2006, Consor has performed underwater inspections of more than marine and freshwater structures in Alaska. These inspections have included bridges and ferry terminals in locations ranging from the west end of the Aleutians, the Arctic Circle, and the southern Inside Passage in Alaska. The project includes the detection of damaged structure elements, section loss, timber decay or attack by marine borers, scour, and undermining of footings or concrete walls. Acoustic imaging is performed on bridges. Many of the bridges require dives to 95 ft.; a portable inflatable recompression bag system was brought to these remote sites as a precaution.
In 2015, our underwater inspection contract was expanded to include routine and fracture critical inspections for bridges and ferry terminals statewide. Structure types inspected include the Cordova Ferry Terminal, which includes a steel pile restrained modular floating pontoon to support both a side and an end loading ramp system; the Tatitlek Ferry Terminal docks and ramps, consisting of twin steel box girders supporting composite pre-stressed concrete deck panels and supported on steel box caps; the Chenega Dock, consisting of dual and triple box girder superstructures supporting precast deck sections spanning transversely between the girders; the Chenega Ramps, consisting of two bridges sharing the same substructure, with each bridge comprised of two steel box girders supporting a precast concrete deck spanning transversely across the structure; and the Sitka Ferry Terminal Bridge, consisting of dual welded box girders, rolled steel box floorbeams, and rolled steel box stringers supporting an open steel grating deck with a steel traction grating wearing surface.
A combination of fracture critical and underwater inspections were also performed on 11 bridges statewide. Bridge structure types include steel thru truss, multi-beam, steel box beam, deck truss, steel plate girder, and timber. Each inspection requires a comprehensive engineering report, including an executive summary/introduction, inspection findings and special conditions, evaluation and assessment, photographs, and CAD drawings. Reports include NBI ratings, element level condition data, critical findings summary, and repair recommendations.
Project Highlights
Routine, fracture critical, underwater, and marine front inspections
Specialized access equipment used to access bridges in remote areas
Inspections included non-destructive evaluations and scour soundings