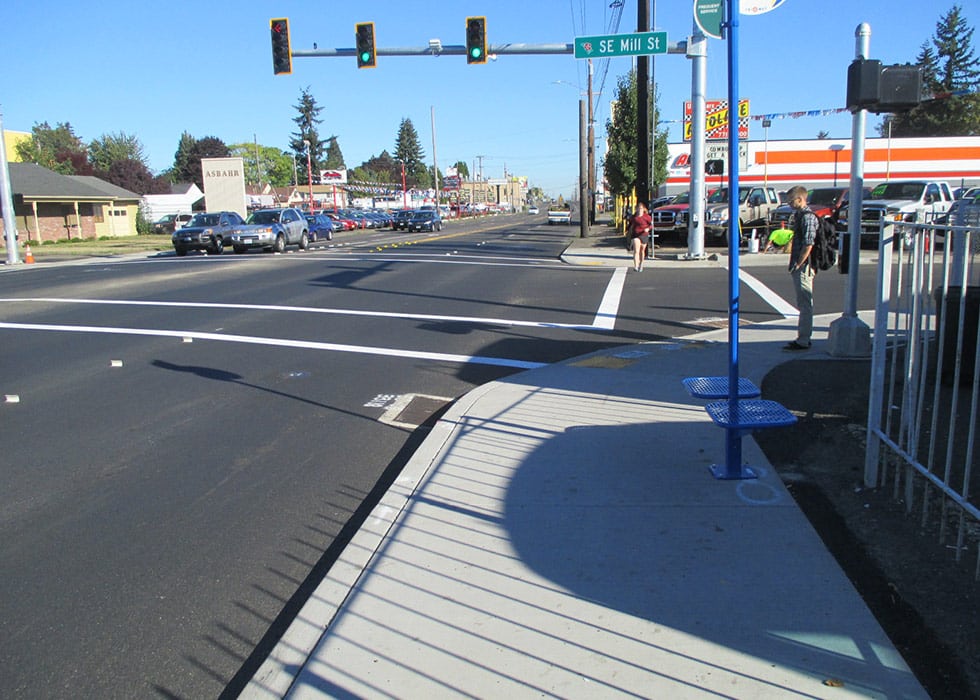 OR213 Operational Improvements
ODOT, OR
Consor partnered with the Oregon Department of Transportation (ODOT) to design signal improvements for three intersections along OR213 (82nd Ave) with the goal of improving safety and accessibility. Existing signals were too old, difficult, and costly to repair and maintain, so ODOT needed our team to design new signals to meet current standards and facilitate safe travel for pedestrians, cyclists, and motorists of all kinds. 
Our team focused on the intersections at Foster Road, Woodstock Boulevard, and Flavel Street. Designs included full signal replacements to current standards, 25 new ADA-compliant curb ramps, and intersection pavement preservation. Due to ODOT's jurisdictional agreement with the Portland Bureau of Transportation (PBOT), Consor delivered upgrades meeting both agencies' standards. 
With twelve separate property and business owners affected by the changes, the Consor team also had a tall task of conducting public outreach. The team held meetings to address access management and right-of-way acquisition with the goal of understanding resident concerns and minimizing impacts to properties. Utility relocations, particularly for utility poles, required complex, multi-user coordination due to the existing span-wire signals "trapping" the existing aerial utilities. Our team used a common telecom designer and relocation contractor to facilitate nightwork and streamline utility relocations to maintain construction schedule. 
The completed project offers improved pedestrian and driver safety in this traffic corridor. With all design and construction services delivered within budget and schedule amongst coordination challenges with agencies and stakeholders, the Consor team can be as proud of the process as they are of the final product. 
Project Highlights
Multiple intersections under jurisdiction of major transportation agencies required skillful coordination and attention to detail within standards
Signal improvements for safety of cyclists, pedestrians, and motorists
ADA improvements
Right-of-way acquisition and access management
Illumination design and utility coordination
Public involvement and outreach to stakeholders to minimize impacts
Creative and effective temporary traffic control design