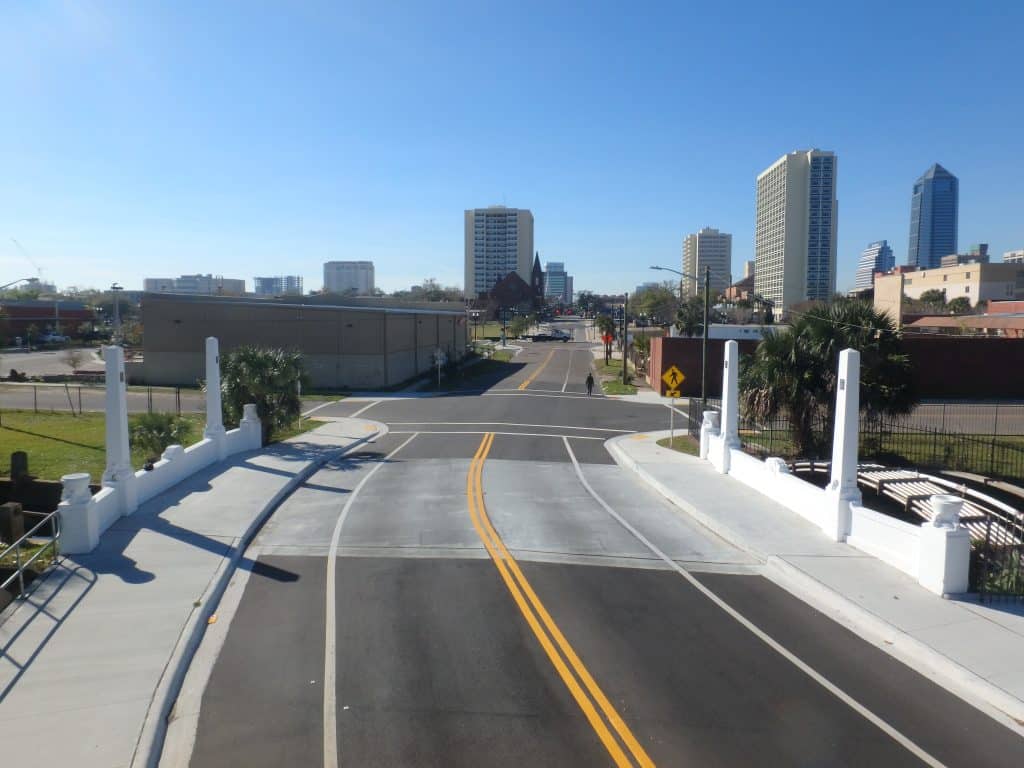 Newnan Street/Hubbard Street Historic Bridge Over Hogans Creek
Jacksonville, Florida
Consor provided the Project Development & Environmental (PD&E) study and design for a historic 1929 bridge replacement on Newnan Street/Hubbard Street over Hogans Creek in Jacksonville, Florida. The study, in accordance with NEPA requirements, included engineering, public involvement, environmental, historical, social/cultural, and human impact analysis. The design phase provided all contract documents and design of the approved alternative to replace the bridge but leave the existing architectural historic railing in place. The successful bridge replacement was accomplished by carefully removing and replacing the existing superstructure and substructure between the historic railings while restoring portions of the railing in place and others off site.
This project is the first Minor Categorical Exclusion (MiCE) produced for the Florida Department of Transportation (FDOT). The issues that moved this project from the programmatic categorical exclusion to the MiCE were the historic sensitivity of the bridge and Hogans Creek; the potential 4(f) issues with the adjacent Confederate Park; and the ongoing contamination issues in Confederate Park. We worked closely with FDOT staff to develop a community awareness program that engaged stakeholders and gathered consensus and project support.
The design removed the existing deck while retaining the existing architectural bridge rails in their entirety. New piles were driven behind the existing channel walls and a new bridge deck was installed over the new pile system. The road profile was raised approximately 6 in. to accommodate the slightly longer bridge span. The typical section of the roadway included re-striping the oversized lanes to two 12-ft. lanes with a designated 4-ft. bike lane. This new configuration increased the width of the sidewalk, thus enhancing the pedestrian accommodations over the bridge as it ties in with the City's proposed trail project that intersects just north of the bridge.
This project was featured in Roads and Bridges magazine as #6 in the 2017 Top 10 Bridge Projects.