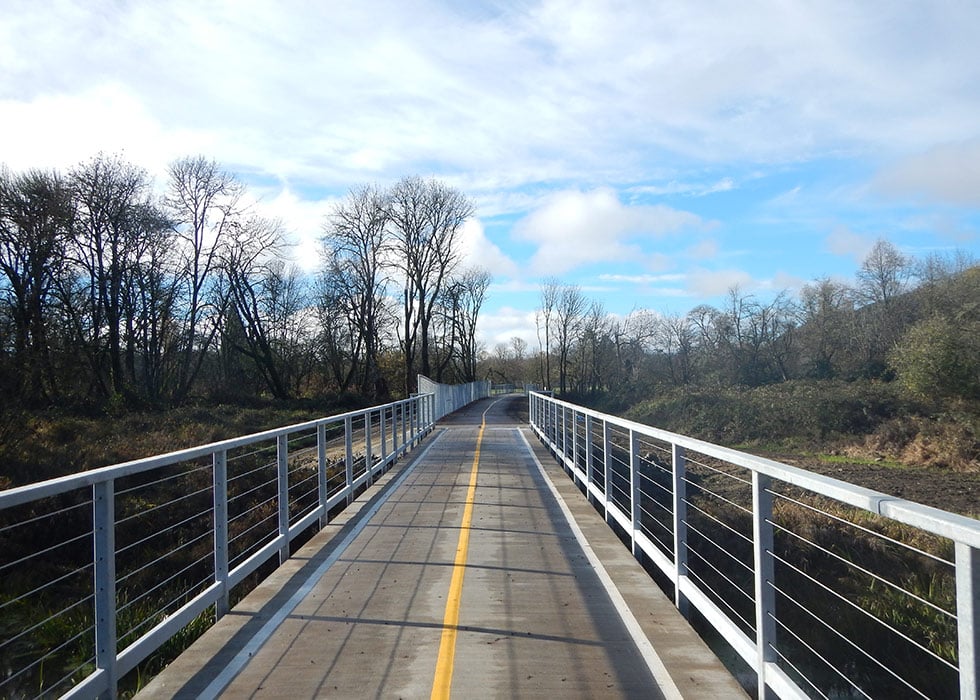 Mill Race Path
Willamalane Park and Recreation District, Springfield, OR
The Mill Race Path, a new multi-use trail in Springfield, Oregon, connects the Middle Fork Path with the Booth Kelly trailhead to provide Springfield residents additional access to water and nature. Completed in 2017, it meanders along seasonal wetlands, pastures, and wooded natural areas, offering a scenic and serene alternative for pedestrians and bicyclists traveling east-west through the city. 
Consor engineers teamed with Cameron McCarthy Landscape Architecture & Planning and the Willamalane Parks and Recreation District to design over two miles of a 10-foot-wide asphalt path, including 2-foot-wide shoulders, several spur trails to enjoy the wildlife, a retaining wall to help protect nearby habitat and avoid right-of-way, three pedestrian bridges, and a trailhead facility. 
The team rose to the challenge of minimizing project impacts on nearby wetlands, floodplains, and adjacent property owners, while striving to maintain schedule and budget goals. Multiple site visits with the District helped optimize the conceptual alignment on the ground before developing final designs. Refinements to the horizontal and vertical elements, such as replacing a culvert with a footbridge, helped to completely avoid wetland impacts and minimize others. 
The Mill Race Path isn't just a beautiful place to explore—the project also demonstrates our team's ability to collaborate across offices. While overall project management was provided out of our local Eugene office, our Portland engineers tackled the design of the trail and enhanced crossings at public roads, as well as storm drainage, water quality and erosion control, and striping and signing—including wayfinding signs to guide trail users. The team was rounded out by our Boise office, which led the illumination design to include parking lot and trailhead lighting and worked closely with the District and the project's landscape architect to select decorative fixtures to suit the natural site. 
Project Highlights
Multi-use path design
Enhanced trail crossings at public roads
Wayfinding signage
Illumination design at new trailhead