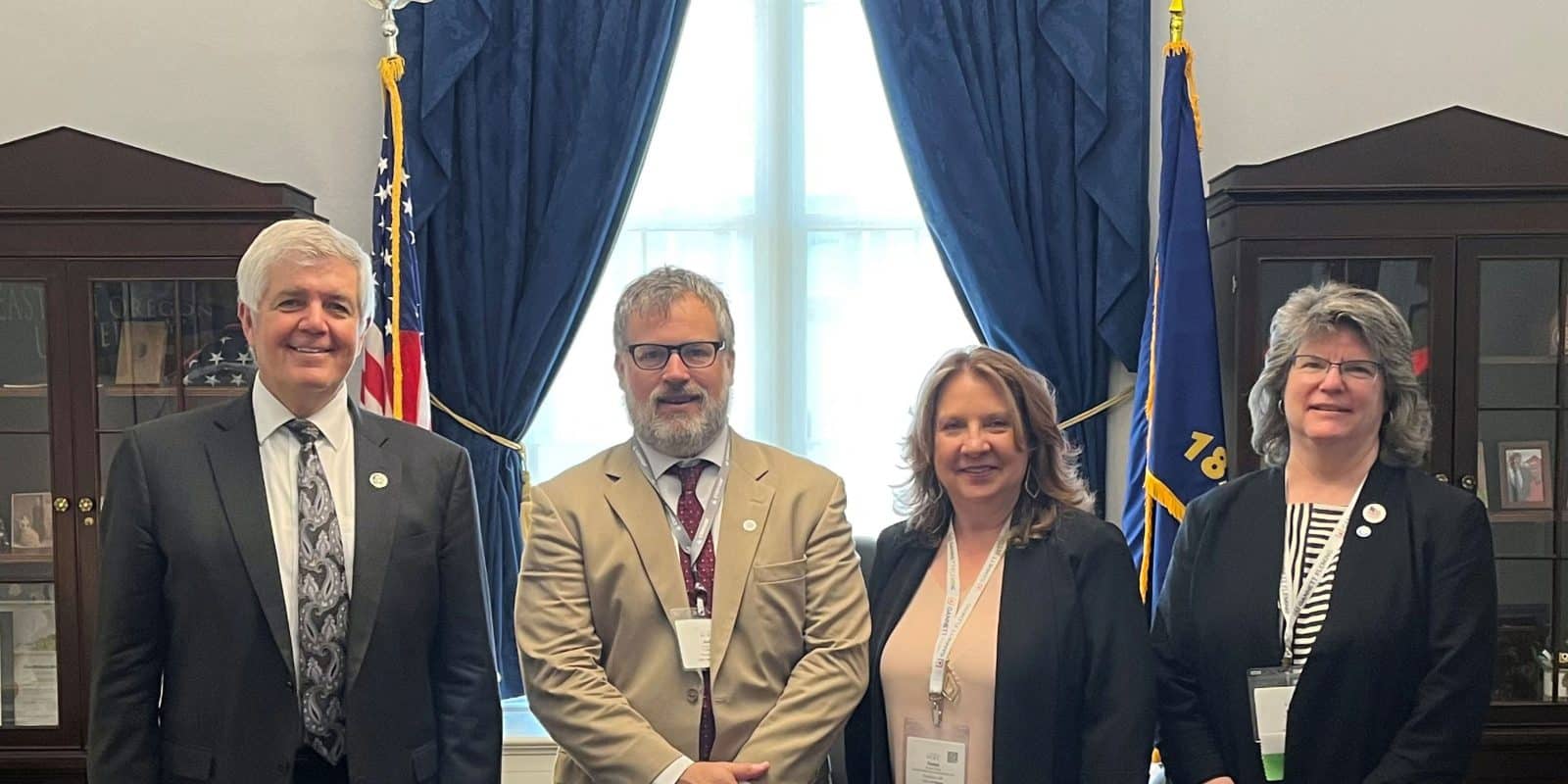 Thought Leadership
Learning + Sharing – Why I'm Involved in Professional Organizations and You Should Be Too
Having recently returned from a five-day trip to Washington DC for an American Council of Engineering Companies (ACEC) National Conference, I gave some serious thought as to why I participate in ACEC on a national level and in our local Oregon chapter. A member organization with a mission to support architectural and engineering consultant businesses across the nation, ACEC has given me unparalleled opportunities to engage with other industry professionals, which provides value on many levels.
I became an active ACEC member in 2004 and am even more active nearly 20 years later. As the current National Director for Oregon, my responsibility is connecting our local chapter to the National Board. I attend board meetings on behalf of ACEC Oregon to vote on bylaw changes or new initiatives and bring back pertinent national information to our state board for consideration. Bigger picture, when the architecture and engineering industry is working toward a better collective future and my firm, Consor, is thriving, we can most effectively support the public agencies who need our services to provide infrastructure for their communities.
When I break down the reason why I am involved in ACEC—and why other industry professionals should be too—it comes down to learning and sharing.
Why Lifelong Learning Is Valuable
Engineers are typically lifelong learners who seek innovative approaches to solving everyday problems on projects and in our workplaces. We can do our own research and endeavor to create new solutions, but engineers are best known for focusing on efficiency and innovation rather than invention. We work best in environments where multiple perspectives and different expertise can come together. I've found expanding our collaborators to those in professional organizations allows us to make more valuable advancements quicker, which is critical as our communities grow and infrastructure ages.
Whether focused on the technical or business side of the industry, most of us start our careers with a sense of what we want to accomplish. We study, learn, earn a degree, and are ready to go! My dad coached me that college was to teach me how to learn and how to approach problems that I couldn't immediately solve. College is just a foundation. When you get your first job, you quickly realize what you didn't learn far exceeds what you did learn. And unless you pursued an MBA, nobody taught you how the business side works.
That's why being involved in professional organizations throughout your career is important—they reveal a plethora of topics that you didn't even know you didn't know. As an example, being involved in ACEC gives you a better understanding of how engineering businesses run and how you might participate in leading one. As a perk, national conferences expose you to peer firms and leaders who are likely tackling the same challenges. If you've heard the expression "a rising tide lifts all boats," you'll live that through a professional organization. When we work toward a common goal as an industry, we all thrive.
During my recent trip to the ACEC National Conference, I participated in discussions with firms across the country trying to do what I and the leadership at Consor are striving to do: hire great people, maintain the firm's culture with a mix of in-office and remote workers, train the next generation of engineers, and understand how advancements like artificial intelligence have a place in our industry. Sitting in a room with leaders from similar-sized firms, I heard other perspectives and learned how those can spur ideas that could work for us all.
Additionally, ACEC attracts inspiring, nationally recognized speakers, from political leaders and international economists to media personalities and motivational speakers. Being exposed to their stories while surrounded by industry peers reminds us all to think creatively and look at ways of learning that can help us develop innovative solutions. This focus on learning—and the bigger-picture understanding that professional organizations can provide—is invaluable for growth at every career stage.
How Sharing Allows You to Get Back What You Give
Like any consultant firm, professional organizations at their core are just a group of individuals coming together. Engaging the membership is how effective goals are developed and work gets done. For ACEC members, a big part of that work is taking time during the Washington DC conference to visit our congressional representatives and senators to lobby for our industry. All member firms help shape the initiatives that ACEC lobbies for, and then individual members reinforce those initiatives by talking directly to our congressional legislators. This effort is important because most of our public agency partners don't have the resources to lobby for themselves and their constituents. By being plugged into the infrastructure funding process, we watch out for potential regulatory changes with a goal of minimizing permitting and federal agency approval timelines and costs, which ultimately helps public agencies and the communities they serve get the infrastructure they need.
Being engaged with our legislators like this is not something I had aspired to do, but I've learned that to be successful one must understand the rules. Since legislators establish the rules, interacting with them about the realities of our industry helps nudge the rules in ways that benefit consultants, our client partners, and our communities. Whether we're on offense pushing for change, or defense trying to prevent a change, it's powerful having that direct connection with the representatives who hold the power.
Through ACEC, there are also opportunities to give back by actively participating in committees and sharing knowledge. Committee initiatives include increasing the number of surveyors and engineers, developing the next generation of business leaders and owners, and much more. But to get valuable information from committees, you also have to give it. That's also why professional organizations are an ideal forum for being a mentor and mentee—there is a pool of great folks with oodles of experience. By giving that mentorship, you ultimately learn just as much in the process.
When you lean into an organization and give it your attention, you will get back more than you put in. Remember that one teacher or adult in your life who probably influenced you to be what you are today? You can become that in a professional organization. One day, someone will come up and thank you for doing what you do. And that's a great reason to get involved in the first place—making a positive difference to those around you.
If you are interested in joining a professional organization, talk to your supervisor, a subject matter expert in your region, or a current professional organization member. Consider attending an event with a member to see what it's all about. I'm happy I work at Consor, a firm that strongly supports professional development, which can include paying for a professional organization membership. But don't be fooled into thinking that merely joining a professional organization will create professional growth. Figure out how to give your best and be seen as the asset that you wish to be. Nearly everything worth having takes time to develop. And this is no exception.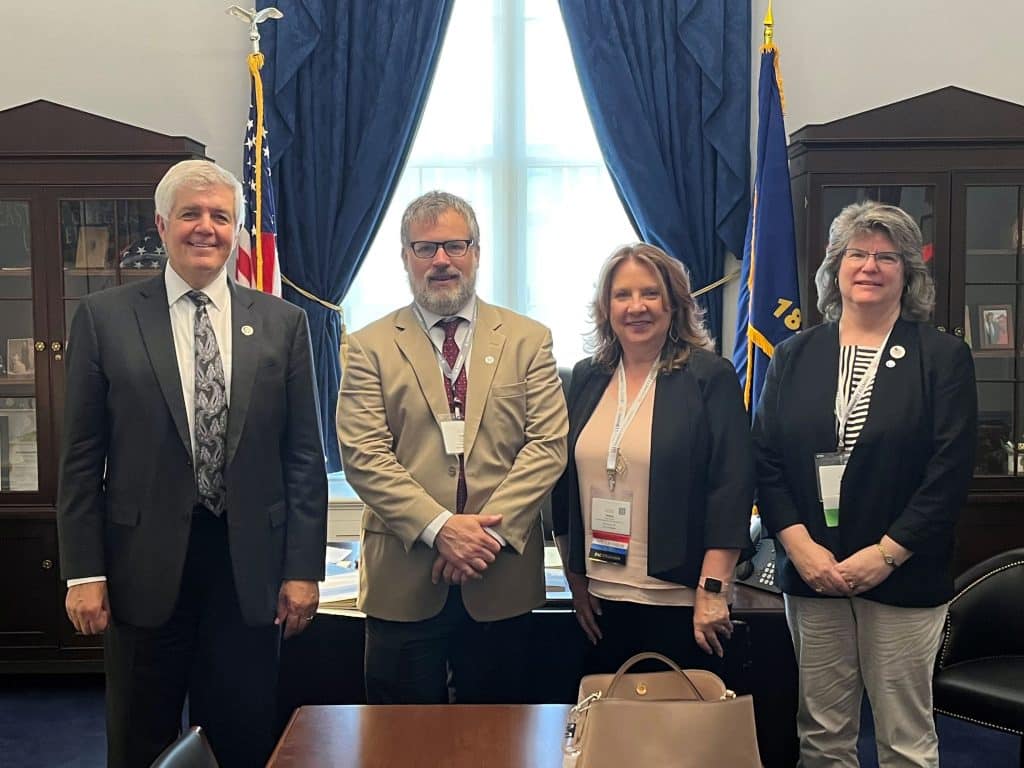 2023 ACEC National Conference in Washington DC
From left, Representative Cliff Bentz (Oregon's 2nd Congressional District), Andy Bowen (Senior Project Manager at Consor), Tonya Finley (incoming ACEC OR President), and Karen Tatman (ACEC Oregon National Director and Principal Engineer at Consor).