Staff Spotlight: Jacob Dahlgren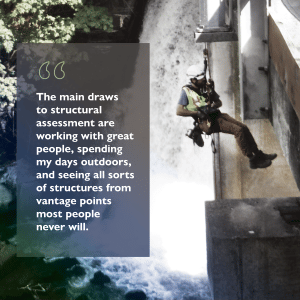 Climbing up, around, and under bridges hundreds of feet in the air might seem like an adrenaline seeker's adventure for some folks, but for Jacob Dahlgren, it's just another day at the office. Jacob began his career as a mechanical engineer working on movable bridges where he occasionally assisted the local bridge inspection team. His expertise on this rare bridge type, which uses complex mechanics to allow boats or barges to pass underneath, came in handy. And as Jacob became more involved with the inspection team over time, his love for structural assessment grew to the point that he wanted to do it every day!
"The main draws to structural assessment are working with great people, spending my days outdoors, and seeing all sorts of structures from vantage points most people never will," Jacob remarked.
Getting into inspection has allowed Jacob to expand his knowledge to the full range of bridge lifecycle tasks, including how these structures are constructed and maintained. But it's not just bridges—Jacob also inspects dams and other hydraulic structures.
What does a typical inspection look like? Jacob climbs the structure using industrial rope access, which gives him the ability to inspect areas safely and efficiently.
"A tried-and-true inspection method," said Jacob, "the use of industrial rope access techniques has been hugely valuable to inspect all structures, including movable bridges, with minimal impact to the structure's operations."
We can't wait to see what new heights Jacob reaches on our structural assessment team in the future!